Often described as the 'Jewel in Laos Crown', Luang Prabang has managed to preserve its longstanding tradition and charm, exuding a missed-out-on-modernization vibe. The majority of Luang Prabang's sights (including 33 Buddhist temples) can be reached on foot, so you can take your time taking in the surroundings and observe the way of the Lao people and monks. Just outside the town center, you can explore lush jungles with miles of hiking trails leading to gorgeous waterfalls and limestone caves.
Here are the top must-dos in Luang Prabang that should add on your Laos holiday.
1. ALMS GIVING CEREMONY IN LUANG PRABANG
Luang Prabang is one of the best places in Laos to witness the alms giving ceremony, which is a longstanding tradition in Laos Buddhist culture. Almsgiving takes place daily as the sun rises, beginning on the main street of Luang Prabang before spreading out to all the side streets. You should buy your offerings (mostly food) in advance and arrive early as it's considered offensive to disrupt the ceremony once it has commenced.
Follow the locals by kneeling down to present your offering. Common gifts include rice, fresh fruit, and traditional snacks. The idea of giving alms for the Buddhist monks is to make merit and also to collect food for their 1 meal of a day.
2. KUANG SI FALLS NEAR LUANG PRABANG
Kuang Si Falls has 3 tiers leading to a 50-meter drop into shallow pools, before flowing downstream. The pools make great swimming holes – you can change into your swimwear at wooden huts close to the waterfall's entrance.
Surrounded by lush tropical jungle, the pools have cascades of up to 5 meters high. If you don't fancy a swim, you can relax in the shade and watch others having fun jumping in and out of the water. There are trails leading to the top of Kuang Si Falls, where you can see the stream feeding into the falls. Wear proper footwear as the trails can rather get slippery, especially during the wet season.
3.MOUNT PHOUSI
Mount Phousi, standing at 100 meters above sea level, is Luang Prabang's highest hill. It's popular as a place to watch the sun rise or set over the Mekong River. From the summit you can enjoy a spectacular panoramic view across the city and its many temples, and over the surrounding landscape to the mountains in the distance.
It takes about 300 steps to reach the top of Mount Phousi, but the climb is gentle enough for anyone with good health. There's another set of steps down that will lead you to several temples – Visit Wat Chomsi where you can buy flowers to offer for blessings.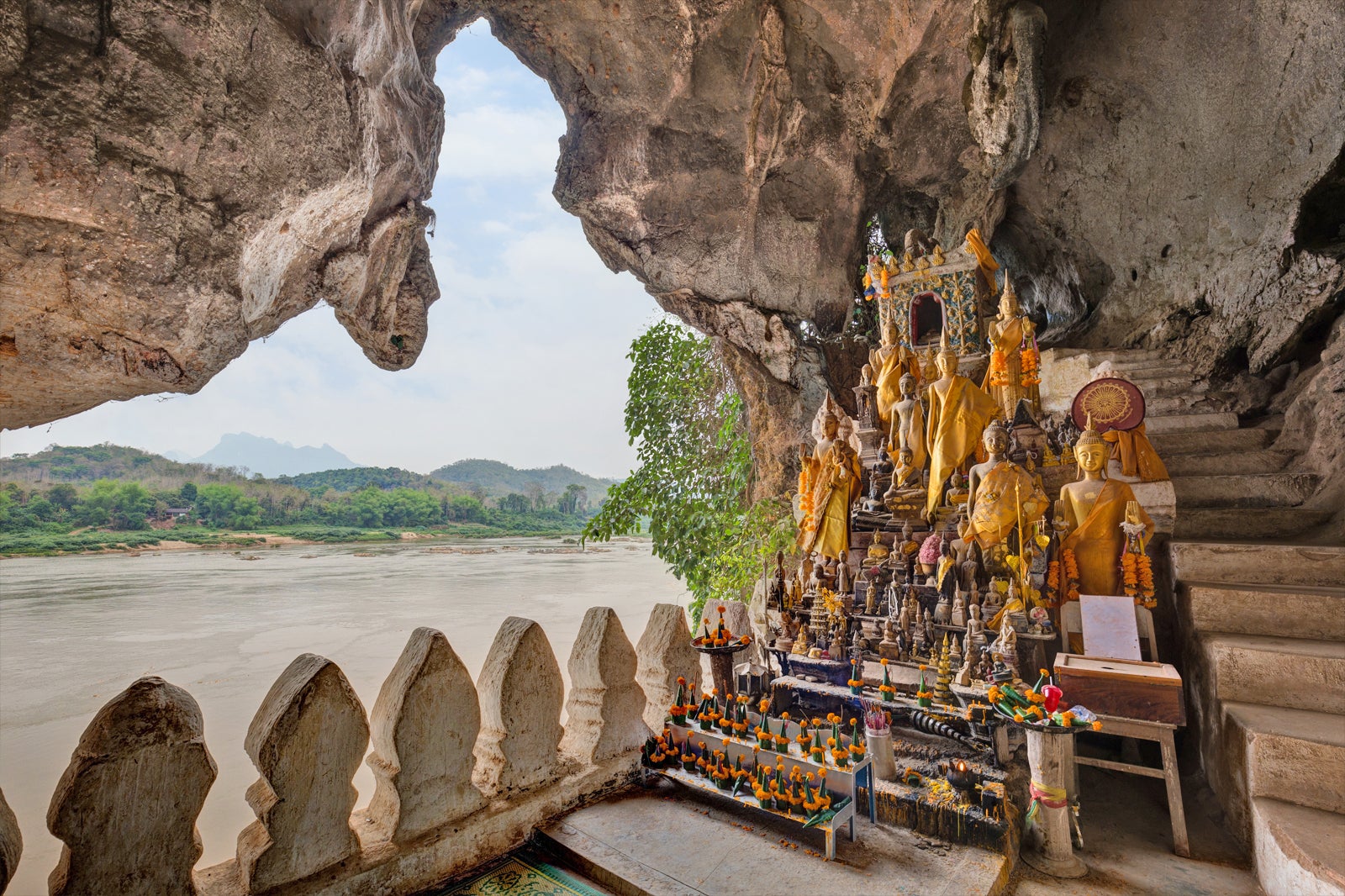 4. PAK OU CAVES
Pak Ou Caves are packed with over 4,000 Buddha icons believed to have been left in the caves by local people for thousands of years. The caves are set in a dramatic limestone cliff at the point where the Mekong joins the Nam Ou River. There are 2 caves to visit: a lower cave called Tham Ting and the upper cave Tham Theung, both serving as shrines to the river spirit and Lord Buddha.
Tham Ting filters in some light but a torch is required for the pitch-black Tham Theung. The upper cave is home to the majority of the Buddha statues and you'll need to find your way in the darkness to the thousands of hidden icons.
5. ROYAL PALACE MUSEUM
The Royal Palace Museum of Luang Prabang once served as the residence of King Sisavang Vong and his family during the French colonial era. Designed in the French Beaux-Arts style with many tasteful accents of traditional Lao culture, the museum exhibits stretches back several centuries to trace the turbulent past of the Lane Xang kingdom and the colonial era, through to the present day
The Royal Palace Museums is surrounded by a spacious, well-tended garden just off Thanon Sisavangvong. The museum is well worth a couple of hours of your time if you want to learn more about Lao history and culture.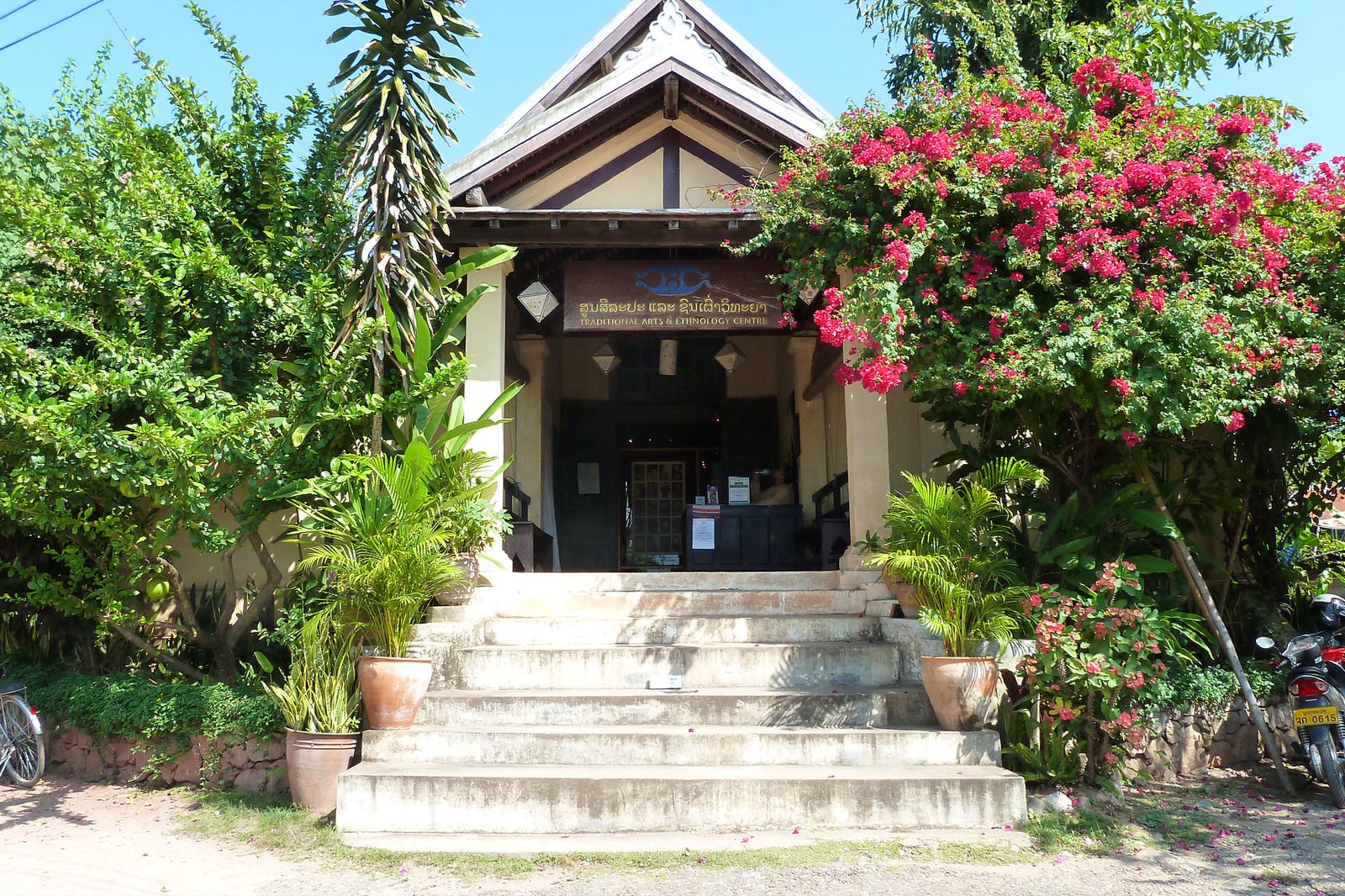 6. TRADITIONAL ARTS & ETHNOLOGY CENTRE
The Traditional Arts & Ethnology Centre of Luang Prabang is dedicated to the preservation and celebration of the many ethnic groups existing in Laos. Located in a restored heritage building along Kingkitsarath Road, it is the only non-profit museum in Laos.
This cultural display of arts and lifestyles reflect a very diverse ethnic population. Permanent exhibitions feature traditional textiles and clothing, jewellery, religious artefacts, handicraft tools, and household objects. The museum offers visitors a rare glimpse into the life of Laotian people giving a greater understanding to their richly diverse culture with quotes, photos and videos bringing the exhibits to life.
7. BE A FARMER A DAY WITH THE LIVING LAND COMPANY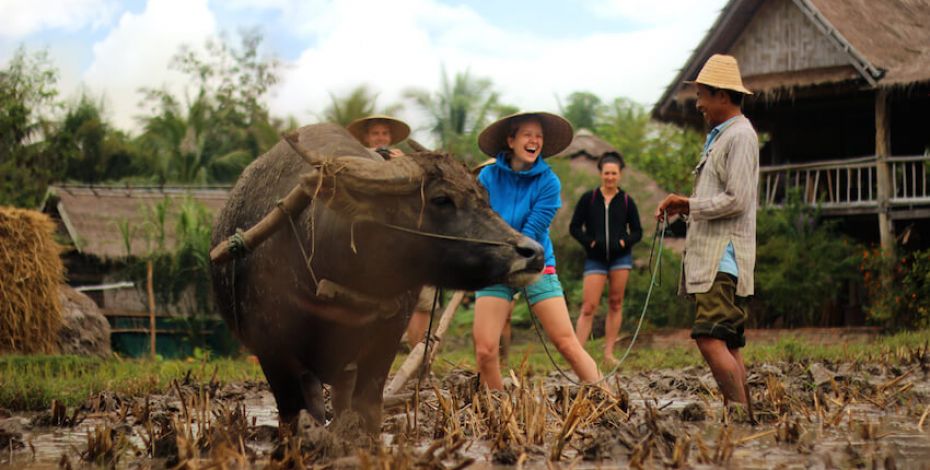 The Living Land Company is a community-run organic farm supplying fresh vegetables, herbs, salads and rice to hotels and restaurants in Luang Prabang. You can take a day trip to the farm and experience the life of a farmer.
There's a beautiful Lao-style house overlooking rice terraces and the organic vegetable fields. The farm aims to offer an alternative to the current slash-and-burn farming methods which result in unusable land following harvest.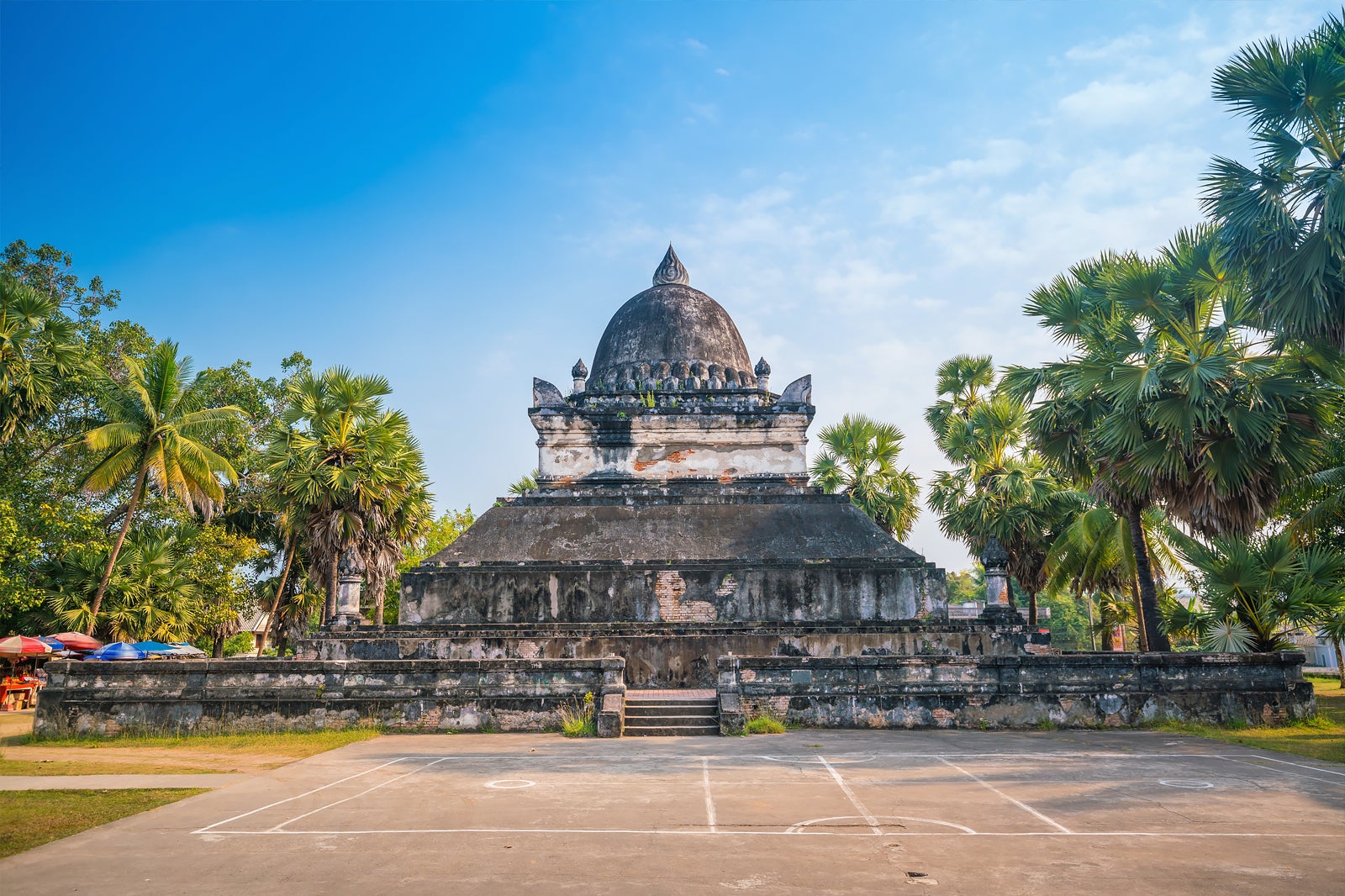 8. WAT WISUNARAT (WAT VISOUN)
Wat Wisunarat dates back to 1513 and named after King Wisunarat (Visoun), who ruled Laos from 1501 until 1520. It's the oldest Buddhist temple in Luang Prabang and served as the city's Museum of Religious Arts. You can see religious artifacts and precious items related to Buddhism and the royal family.
Wat Wisunarat features traditional Lao architecture – a unique landmark here is its unusually shaped stupa designed by the wife of King Wisunarat. While it's supposed to resemble a lotus flower, locals often call refer to it as the 'watermelon stupa'. Another distinguishing highlight is the European-style roof, which slopes in a manner not usually seen in Laos.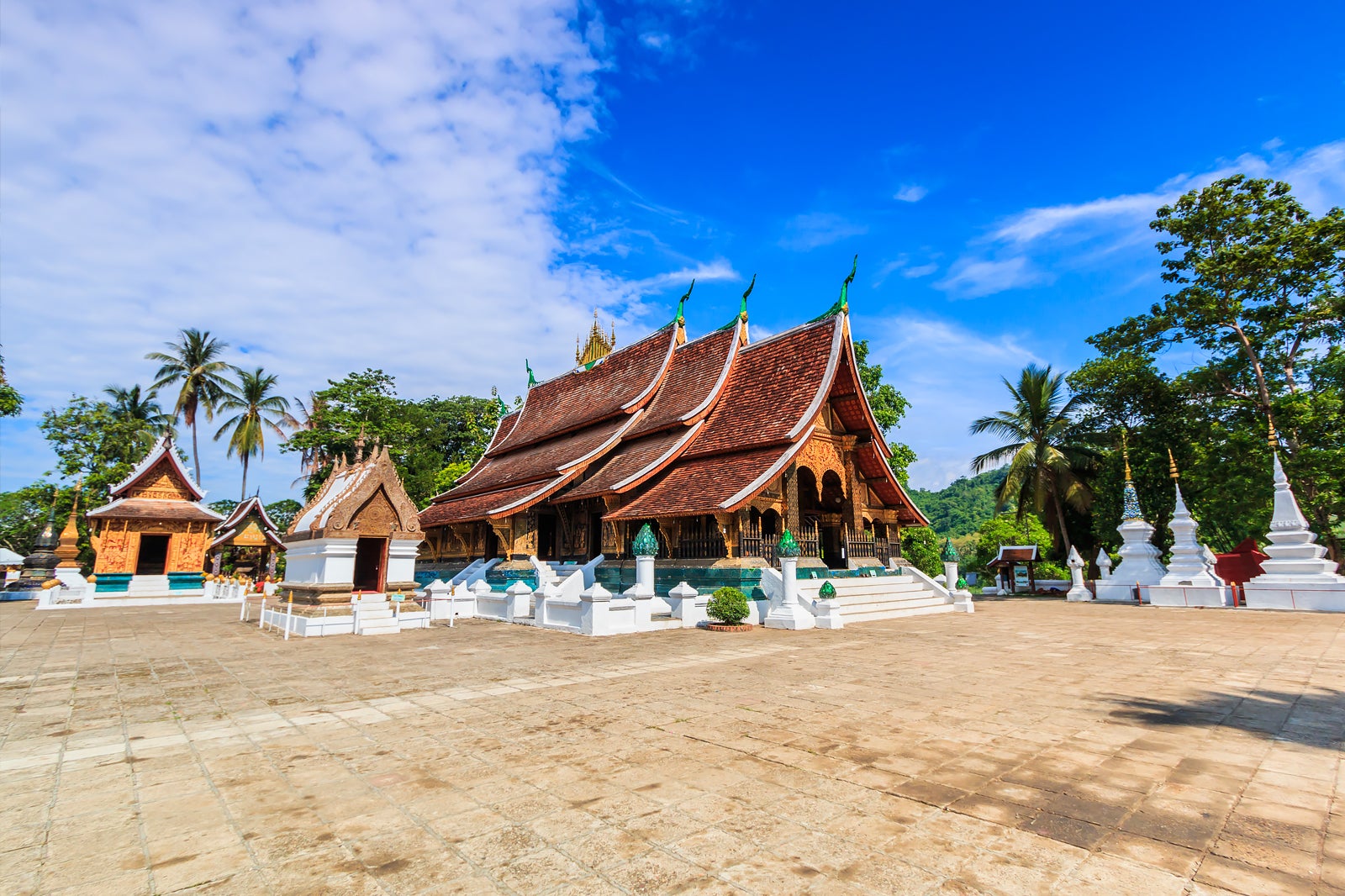 9. WAT XIENG THONG
Wat Xieng Thong is one of the largest temples in Luang Prabang. A symbol of great historic importance, its structure has characteristics of 16th-century Lao architecture, with an elaborate 'tree of life' mosaic, intricately carved walls, rare Buddhist deities, and a 12-meter-tall funeral carriage.
Wat Xieng Thong once oversaw the coronation of Lao kings – today, it's an important gathering place for significant annual festivities in Luang Prabang. The temple still remains in its original form, with repairs undertaken to the roof, gold leaf gilding and lacquering added to the walls and entrance.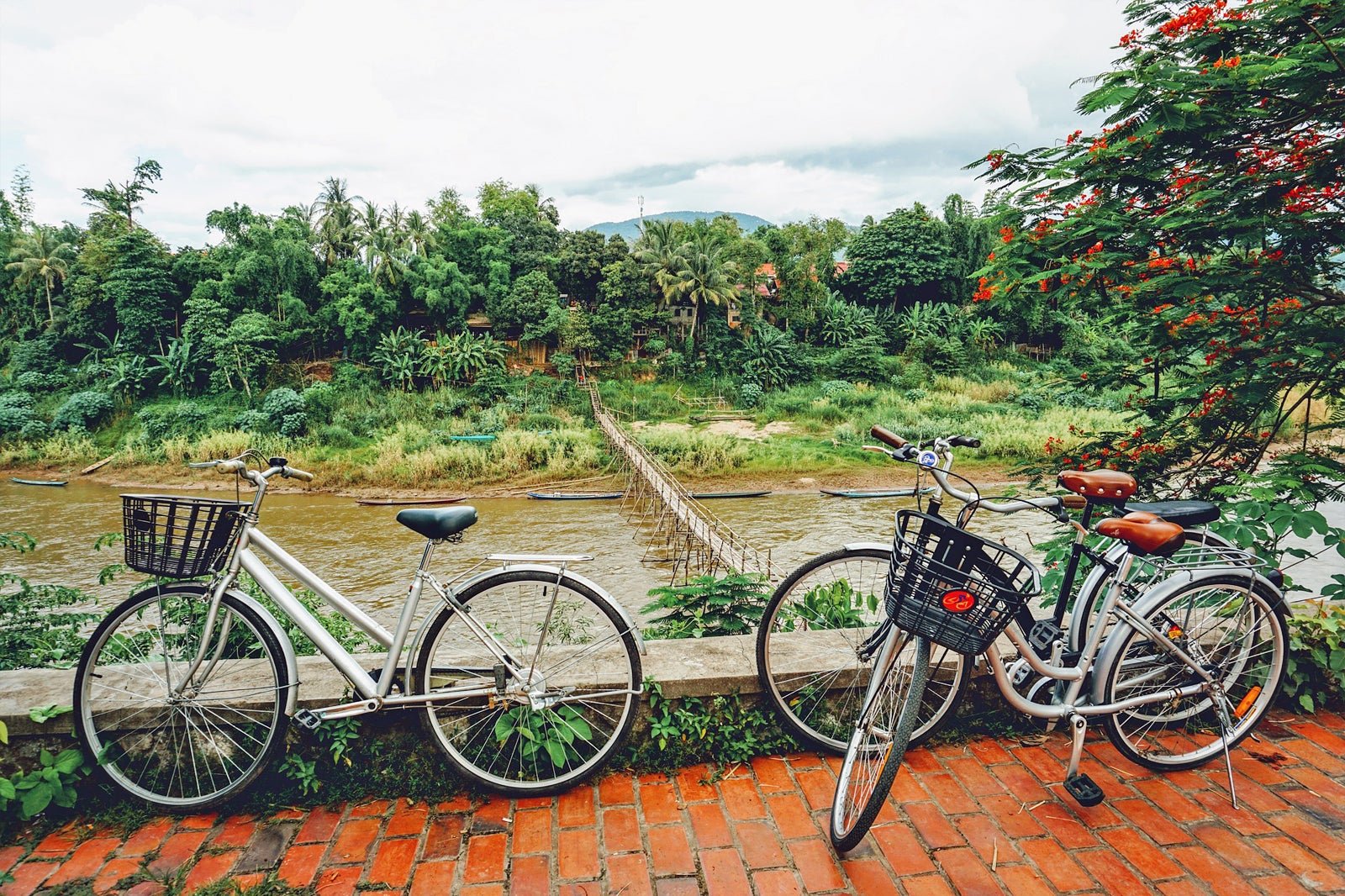 10. CYCLING
Cycling is a great way to experience the beautiful Luang Prabang countryside, with day tours taking you around the old town, across rivers, through rural villages, and past mountains. Trips can be booked through travel agents in the town center, and are normally limited to 20 people per trip.
Adventurous riders might enjoy a more challenging tour on a special off-road route to remote villages, exploring the rural side of Luang Prabang, crossing 4 rivers en route. Most cycling tours in Luang Prabang take about 4 hours and include an English speaking guide, lunch, and cycling equipment.